News
Mask Making Project for Band Members @ Wildcat Reserve
Published: July 29 2020 09:49
Health Update #12 with AFN Community Health Nurse
Published: July 28 2020 14:07
Hello Everyone!
As you know, I am back in the Gold River Health Centre and available for appointments both virtually, or in office. I can be most easily contacted by email: You can also call my cell phone 902-277-2297. Please watch the AFN Community Health Facebook page for updates, information, programs and contests. Another contest will be coming soon, and I am currently working on a virtual healthy living program for the fall. If you have any requests or ideas, please get in touch with me to let me know.
As of Friday, July 31, masks will be mandatory in all indoor public spaces. Children under two are exempt, as well as children aged two to four when their caregiver cannot get them to wear a mask. People with a valid medical reason for not wearing a mask are also exempt. The list of places this will include are listed in the first link below.
Chief Medical Officer, Dr. Strang has stated that there are very few valid medical exemptions and these mostly pertain to anxiety disorders. The Canadian Thoracic Society states there is no evidence that wearing a mask worsens a chronic lung condition such as asthma or COPD (second link below). Wearing a mask can be uncomfortable, and may cause some to feel anxious, but we must all try to do our part to help minimize the spread of Covid-19, if you are able.
If you have trouble wearing a mask, there are ways you can work on that. Start now by wearing one at home for short periods of time. Practice wearing it for longer periods of time when you know you are safe and able to take it off at any time. This can help ease your mind and build up your tolerance. Also, you can try reminding yourself "this isn't just for me, this is to protect my family, my friends, and my community"
Take Care,
Wash your hands, and wear a mask
Chelsea Sawyer
AFN Community Health Nurse
Health Update #11 with AFN Community Health Nurse
Published: July 14 2020 14:36
Update in Services:
Happy Tuesday Everyone,
I am now back in the Gold River Health Centre. I will be available Monday to Thursday from 8am to 4pm, by appointments only. At this time, there will be a strict no drop-in policy at this time. You can reach me by email: or by phone: 902-277-2297. Once you arrive at the office for your appointment hand sanitizer will be available to sanitize your hands or you may wash in the public bathroom available.
Beginning Thursday, July 16th, our child and youth mental health worker, Bryn will also be available, once a week. She will be available by appointment as well; she has openings and is available to take on new clients. You can call or email me, and Bryn will call you back to book your appointments.
Our adult mental health worker Shondalee, who is covering for Mike during his 1-year leave, is still available via telehealth, either by phone or video chat. Again, you can contact me and I will get you in touch with her, or you can contact her directly at 902-521-7158 (please leave a message), or email to book your new or follow-up appointments.
Continue to follow the AFN Community Health Facebook group for updates, programs, and contests. Thank you for your patience and understanding while we continue to navigate new normals and protocols through this pandemic.
As always, take care and wash your hands!
Chelsea Sawyer
Community Health Nurse
Acadia First Nation
Best Practices Surrounding Status Cards During COVID-19
Published: July 08 2020 13:36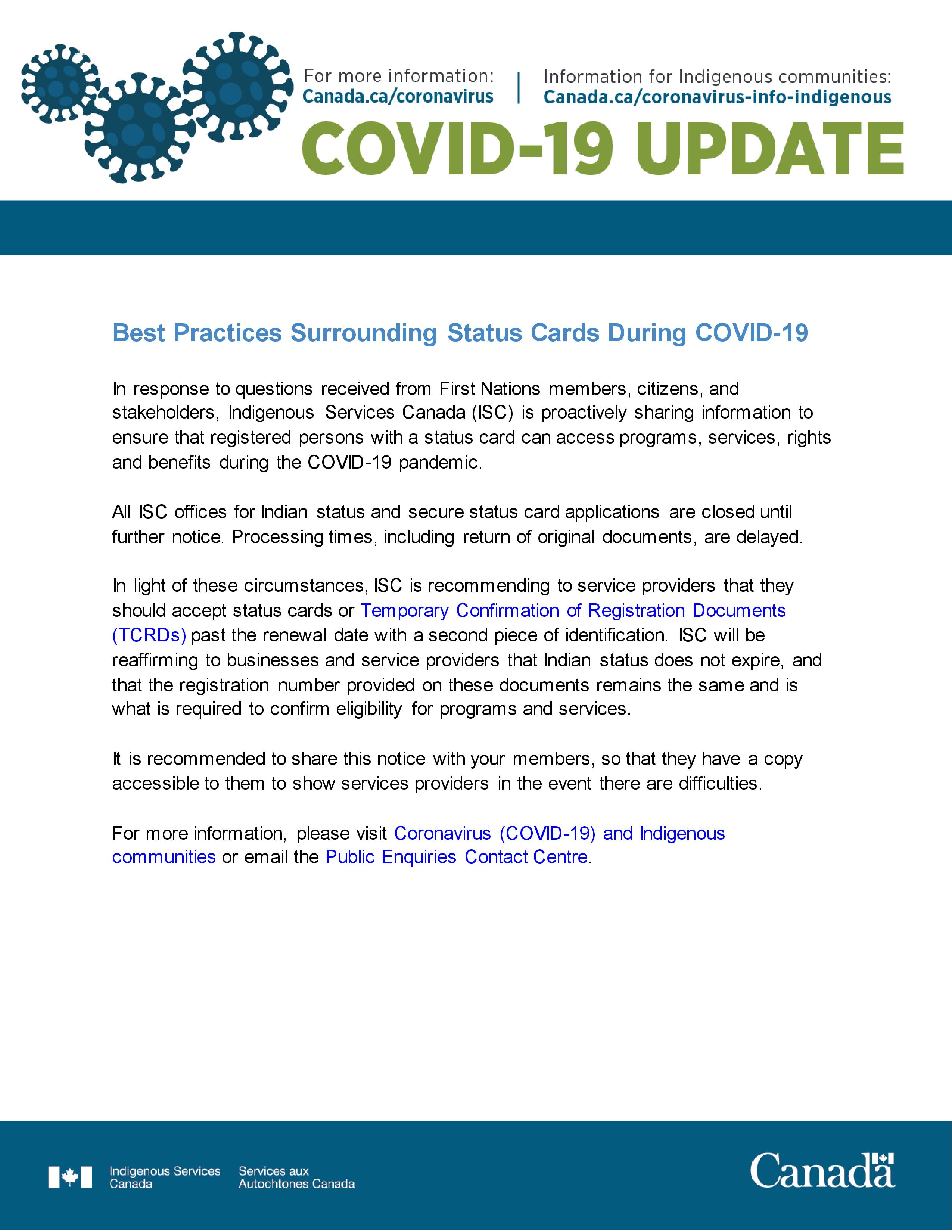 Download PDF: COVID 19 ISC Best practices for expired status cards (192 KB)
A Notice From the Administrative Offices of Acadia First Nation
Published: July 07 2020 12:57
Due to the ongoing global situation regarding novel coronavirus COVID-19, the administrative staff and offices of Acadia First Nation will not be closing for the traditional summer shut-down. This generally occurs during the last week of July and the first week of August. This year, the administrative offices will remain open and will continue to provide services and assistance to our members during these tough times. Stay safe and remember that we all must do our part to help prevent the spread of this dangerous virus in our communities.
Lloyd MacDougall
Band Manager
Acadia First Nation
Chief and Council Update | July 6, 2020
Published: July 06 2020 11:55
July 6, 2020
As we continue to deal with the global pandemic Acadia First Nation is working hard to safely reopen our businesses, offices and restore programming.
We are pleased to report that our gaming facilities are now fully open with all VLT machines operating. All gas bars, stores and restaurants are also open with social distancing policies in place.
As of today, (July 6) our Yarmouth, Medway , Wildcat and one of the Gold River offices are open by appointment only. Our deemed essential workers are now back full time working in these offices. The carpentry crew will gradually begin operations. While some of the crew will begin July 6 others will return as more projects start and as required.
Our membership clerk will return August 4. Our Hammonds Plains and Shelburne offices as well as the Gold River Health centre will reopen September 8. The Yarmouth Youth Centre is also expected to reopen Sept 8. Decisions surrounding Forestry Operations are ongoing.
Our Commercial Fishing operations have continued to operate throughout the pandemic. Fishers requiring tags for the FSC (Food Social and Ceremony) should contact our Fisheries Department to arrange. A copy of the FSC plan can be found on our website.
School supply applications are available on the website. Most students would of received in the mail. Please ensure they are mailed back in before the deadline.
Decisions regarding the upcoming election will be forthcoming.
We thank you all for your patience over these last few months. As we progress into the "New Normal" we ensure you that Acadia First Nation remains strong and financially sound. While operations came to an abrupt halt disrupting main revenue sources we worked hard to mitigate the loss. Thank you to all staff who endured layoffs, reduced hours and to those who worked from home. You are appreciated.
Please practise proper hygiene and follow all public health directives. Together we will keep our communities safe.
Chief and Council
Acadia First Nation