News
Job Opportunity | Receptionist | Yarmouth Office
Published: November 24 2022 13:35
EMPLOYMENT OPPORTUNITY
Receptionist - Yarmouth
| | |
| --- | --- |
| RATE | $ 15.55 - $ 16.55 per hour (dependant upon qualifications)/36 hours per week |
| POSITIONS | One (1) position available |
| DURATION | Full-Time |
| LOCATION | Main Administration Office – Yarmouth, NS |
| ESTIMATED START DATE | January 2023 |
GENERAL DESCRIPTION
Acadia First Nation is governed as a custom band under the provisions of the Indian Act with established bylaws, policies and procedures. The First Nation's electoral system constitutes an election once every five (5) years with positions for one Chief and eight (8) councillors. Chief and Council elect, are the governing body responsible for making decisions for the overall health and well-being of communities, Elders, youth and families.
Acadia First Nation is unique in its geographical composition, spread throughout the Southwestern regions of Nova Scotia spanning five counties from Yarmouth to Halifax, encompassing six (6) reserves - Yarmouth, Ponhook, Medway, Wildcat, Gold River, and Hammonds Plains, in both rural and urban settings. To support administration and business operations, Acadia First Nation, with supporting staff, provides programs and services within two (2) Health Centres, a Youth Centre, two (2) Community Centres, six (6) administration offices, and six (6) business establishments, including human resources, health, social, economic development, employment, education, housing and maintenance, forestry and fishing.
AFN is currently recruiting for the Receptionist - Yarmouth Office, full-time position, with a high degree of confidentiality and professionalism, answering and fielding calls, addressing inquiries, organizing events and activities and maintaining the office budget, continually providing a welcoming environment for employees, AFN members and families and general public.
DUTIES AND RESPONSIBILITIES
Maintains a high degree of confidentiality and professionalism in dealing with all AFN administrative matters
Answers and fields all incoming calls and addresses all general inquiries
Receives, re-directs and relays telephone and email communications for employees
Greets and directs AFN Members, visitors and general public
Receives scheduled and walk-in clients at the reception desk, arranging appointments as needed with employees who are unavailable to meet with unscheduled visitors
Establishes and maintains a monthly/weekly office schedule of all Yarmouth office employees
Assists in the planning and preparation of all in-person and virtual meetings, conferences and conference telephone calls as needed
Maintains an accurate and current filing system of all correspondence (archive files yearly)
Establishes and maintains an inventory of office supplies
Directs complaints, inquiries and requests from AFN members and vendors to the appropriate departments
Orders and picks up any refreshments required for meetings held by employees at the Yarmouth Office
Makes travel reservations, and hotel bookings on behalf of employees for AFN direct accounts as needed
Keeps the bulletin boards up-to-date, posting relevant material, such as job postings, notices, newsletters, etc. (remove any old or out of date information)
Maintains confidentially of all records and files, unless release of specific information is authorized by AFN Council
Assists in the planning and execution of community events, Elder, youth trips and activities for Yarmouth AFN members as required
Adheres to all AFN policies and procedures
Performs other duties as assigned by AFN Chief and Council
QUALIFICATIONS
Diploma in office administration or related field from a recognized institution
Knowledge and experience working in a Mi'kmaw community
An understanding of Mi'kmaq culture and traditions
Ability to maintain a high level of confidentiality
Analytical and problem-solving skills
Decision making skills
Excellent verbal and listening communication skills
Proficient use of Microsoft programs including the ability to use spreadsheets and word-processing programs at a highly proficient level
Time and stress management skills
Required Child Abuse Registry check every two years
Required Criminal record check upon hire
Deadline to Apply: December 8, 2022
Acadia First Nation is equal opportunity employer; however, qualified Aboriginal applicants will be given priority in accordance with the Aboriginal Employment Preference Policy of the Canadian Human Rights Commission.
Submit Cover Letter and Resume to: **Please quote RECEPTIONIST# on your cover letter and indicate your salary expectations for this position.
AFN reserves the right to refuse any and all applications for employment and does not assume candidate expenses related to this recruitment process.
Only candidates selected for an interview will be contacted.
Tree Lighting Ceremony | AFN Youth Centre | Yarmouth
Published: November 15 2022 11:37
Free Skate | Mariners Centre | Yarmouth
Published: November 15 2022 11:33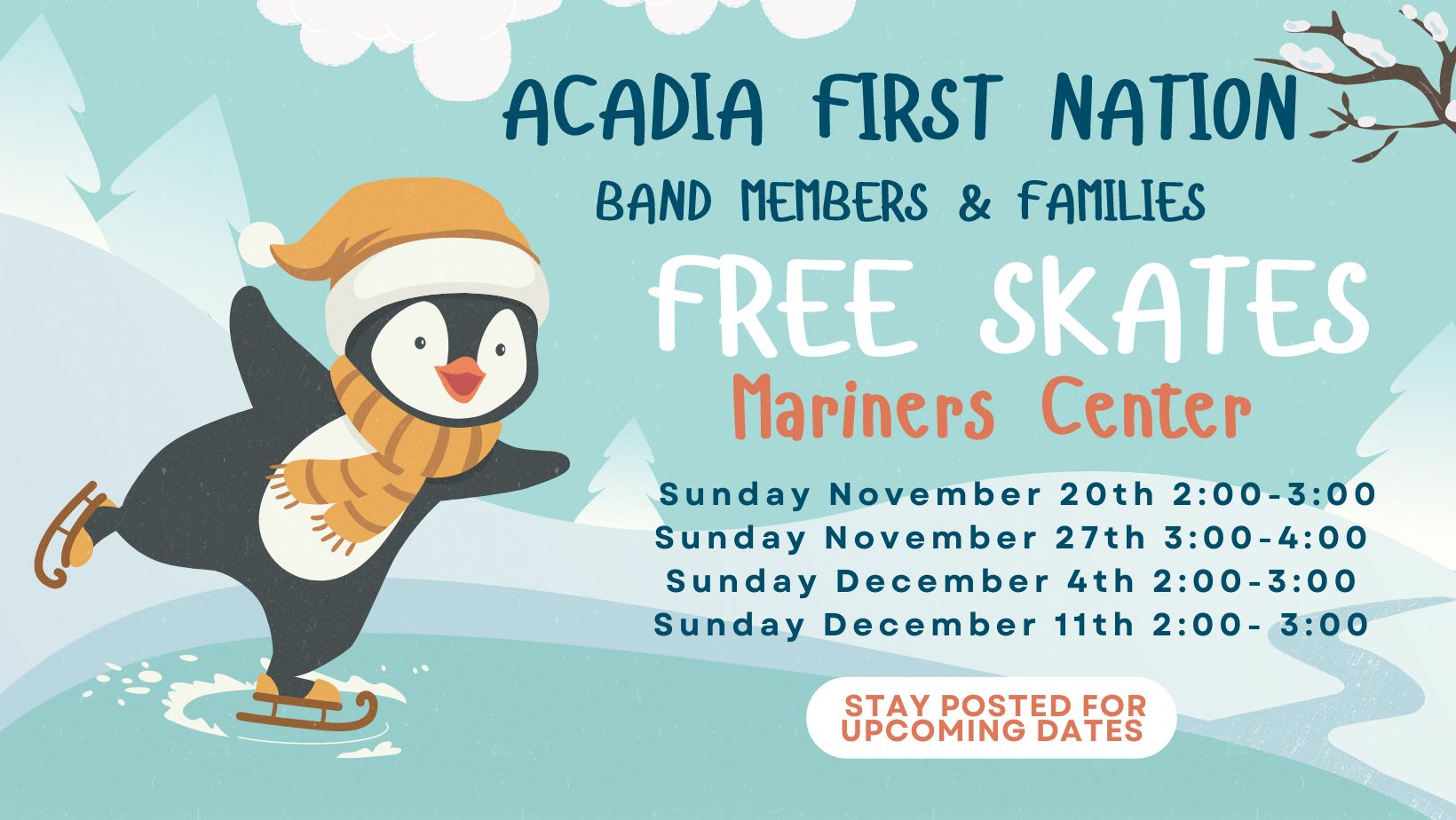 Christmas Dinner | Yarmouth Community
Published: November 15 2022 11:29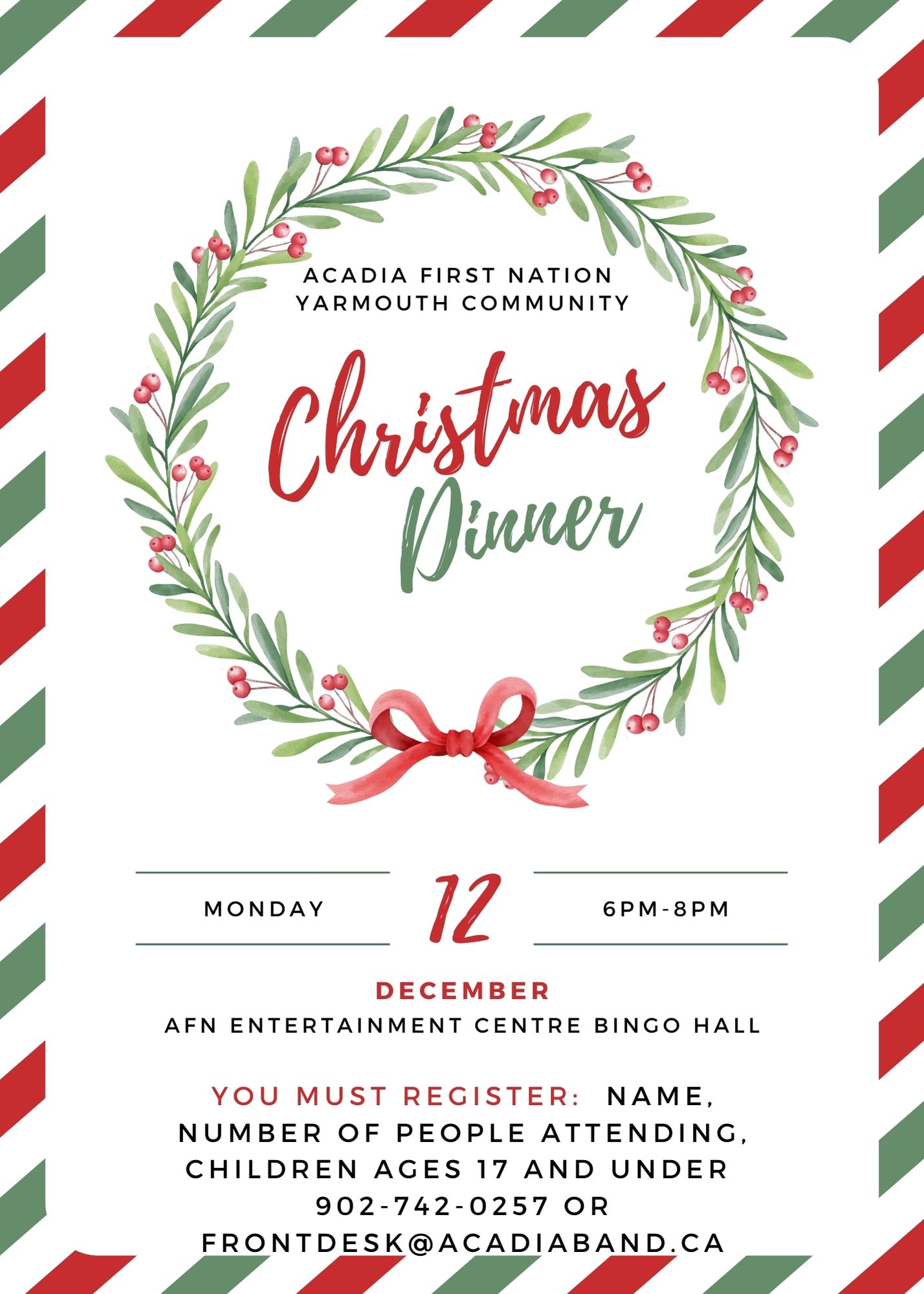 Community Comprehensive Plan | Community Meetings
Published: November 02 2022 14:13
Community Comprehensive Plan
Community Meetings
All Band Members are encouraged to attend as this is a plan that is developed by our community for our community. It is an open forum to discuss our past, present and future of Acadia First Nation! What have we learned from our past, and how do we presently keep going in the right direction to sustain our First Nation for the FUTURE!! Community input is valued and much needed to make this a successful Community Comprehensive Plan!
When and Where??
Date: November 7, 2022 6pm – 8pm
November 21, 2022 6pm - 8pm
Shelburne Fire Hall in the Small Room
Date: November 8, 2022 6pm to 8pm
November 22, 2022 6pm to 8pm
Yarmouth Rose Purdy Centre
Date: November 12, 2022 10am – 12pm
November 26, 2022 10am – 12pm
Gold River Community Centre
Date: November 12, 2022 3pm – 5pm
November 26, 2022 3pm to 5pm
Halifax Area – Friendship Center in the Gordon King Room
Sonya's Indian Tacos will be available (on November 7, 8, and 12th) and Door Prizes!!
Please let me know if you plan on attending so I can have the correct amount of Indian Tacos available!!
902-748-3871 or inbox me on Facebook Messenger