News
MEDICINE WHEEL SUMMER DAY CAMP
Published: August 12 2021 09:49
Moderate Livelihood Fishing Community Sessions | August 2021
Published: August 10 2021 16:59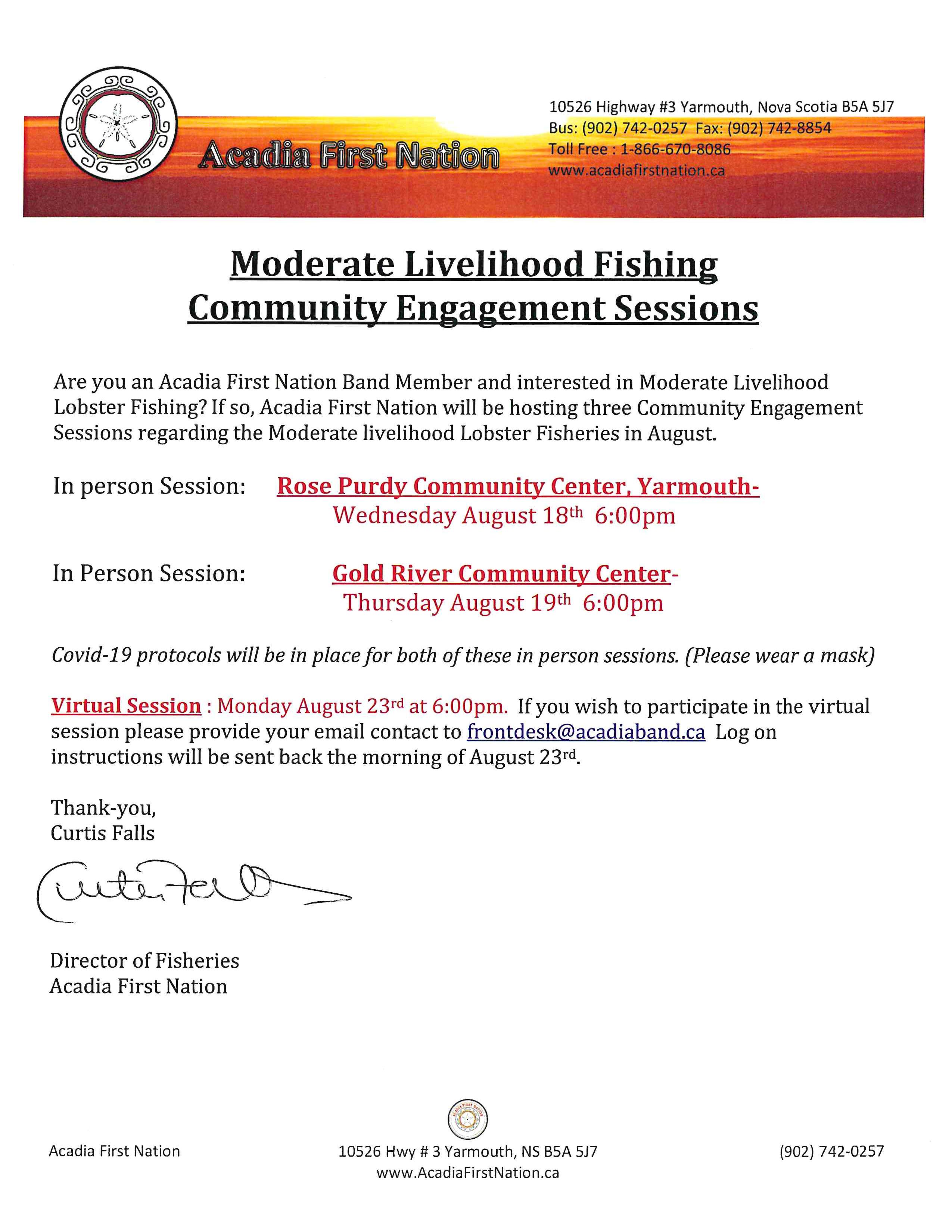 FINANCIAL ASSSITANCE FOR SCHOOL SUPPLIES APPLICATION 2021-22
Published: July 06 2021 13:56
Please find the application for financial assistance with school supplies for the 2021-2022 school year.
Nova Scotia Power Smart Meter Notification
Published: May 31 2021 14:39
Nova Scotia Power Smart Meters will be installed on all Acadia First Nation Reserves in the coming weeks. Please read all attached information. Including opt-out application.
Attached is a suggested schedule for Smart Meter conversion from Nova Scotia Power. All work is done outdoors and NSP has strict Covid-19 Protocols.
Yarmouth – June 10/11
Gold River – this community has already been completed
Wildcat – June 8/9
Greenfield – June 16/17
Ponhook – June 8/9
There will be a power interruption of approximately 2 minutes per household as the new meters are turned on which the residents will be advised when the techs are on site.
Please see the below PDFs for more information:
Smart Meter Upgrades in First Nations Communities (479 KB)
Smart Meters FAQ March 2021 (146 KB)
RECREATION FUND NOTICE
Published: May 31 2021 14:32
RECREATION FUND NOTICE
The Covid-19 pandemic has been difficult to navigate since March 2020, especially for our Youth. Our Youth have had their lives disrupted by converting to online learning, changes to their social activities, as well their extra-curricular structured activities.
These changes have prompted us to look at the REC Funds extra-curricular monies for Youth 18 and under differently for the fiscal year 2021. You will be able to access $150 of your extra-curricular monies if you have not already accessed your maximum allowable during the current fiscal year for items related to recreation, sports, music and wellness. Some examples may include but are not limited to, basketball nets, skateboards and helmets, scooters, bicycles, music and art related items etc.
You will be reimbursed up to a maximum of $150 with receipts. This change in guidelines is only in affect for the 2021 fiscal year. School aged Youth must be currently enrolled in school.
Please contact (902) 742-0257 or 1-866-670-8086 with any questions or concerns